We complete the entire week with the planning of meals and exercise while we telework looking forward to the weekend to be able to allow ourselves the long-awaited Sunday snacks in the sun.
It does not mean that we stop following the plan or that we will gain weight in 1 hour of "snack", do not panic. It means that good options and in a controlled way, can enter our diet.
Many times we associate Sunday aperitifs with alcoholic beverages. These days of quarantine, more than ever, we must have our immune system at its best to fight against any possible virus that appears. If you are interested in knowing more about alcohol and its effect on the immune system, you can read this article in English. In our instagram account (which we highly recommend that you follow) we will upload some non-alcoholic drinks that combine very well with these Sunday snacks.
By preparing these recipes at home, just like other healthy snack options that we have previously proposed, we manage to control exactly what ingredients are we going to eat, their quality and what cooking are we going to give them. Now we just need to control the quantity.
Many of these Sunday snacks are usually rich in good quality proteins such as seafood, in addition to being low in calories and having many benefits as explained in this article . Other common snacks, such as bravas or hummus, are rich in carbohydrates. In this post we bring you their homemade and healthy versions. Unlike bar snacks, you will save excessive sauces and low-quality fats used when cooking them.
You already know that nutrition is a complex process and it has to be very personalized. During this quarantine, your day to day is very different, so you should adapt your diet. Go to the IND website to ask for help through the online nutritionist service. But just in case, we remind you some options of low-carb recipes so you can square them in your days of more vague confinement.


Steamed cockles
Cockles – 50gr (10-12 cockles)
Laurel – 3gr (1 sheet)
Table salt – 5gr (1 pinch)
Lemon juice – 5gr (1 small splash)
Cooking wine – 80gr (½ glass of wine)
Olive oil – 3gr (1 c / desserts)
Put the fresh cockles in a large bowl filled with cold water with a handful of salt.
Keep them there for 30 minutes to 3 hours (depending on how much sand they have). Make 2 or 3 water changes to remove the sand.
When they are well cleaned, drain the water and dry the cockles with the help of a cloth.
Heat a pot over high heat with a little bit of coarse salt and a few drops of extra virgin olive oil.
When it is hot add the wine.
Add the fresh bay leaf and cover the pan. Raise the heat to full and when it starts to boil, uncover it and add the cockles.
Let them cook for a maximum of 2 minutes, if they have been opened before, remove them. This will prevent them from overcooking.
Serve the cockles on a plate and top with the remaining stock.
You can add a dash of lemon on top if you feel like it.
Kcal : 100kcal (with these amounts)
Proteins: 32% of kcal
Hydrates: 32% of kcal
Fats: 35% of kcal
It is essential to clean the cockles well so that the sand does not spoil the recipe. This process is called "deburring".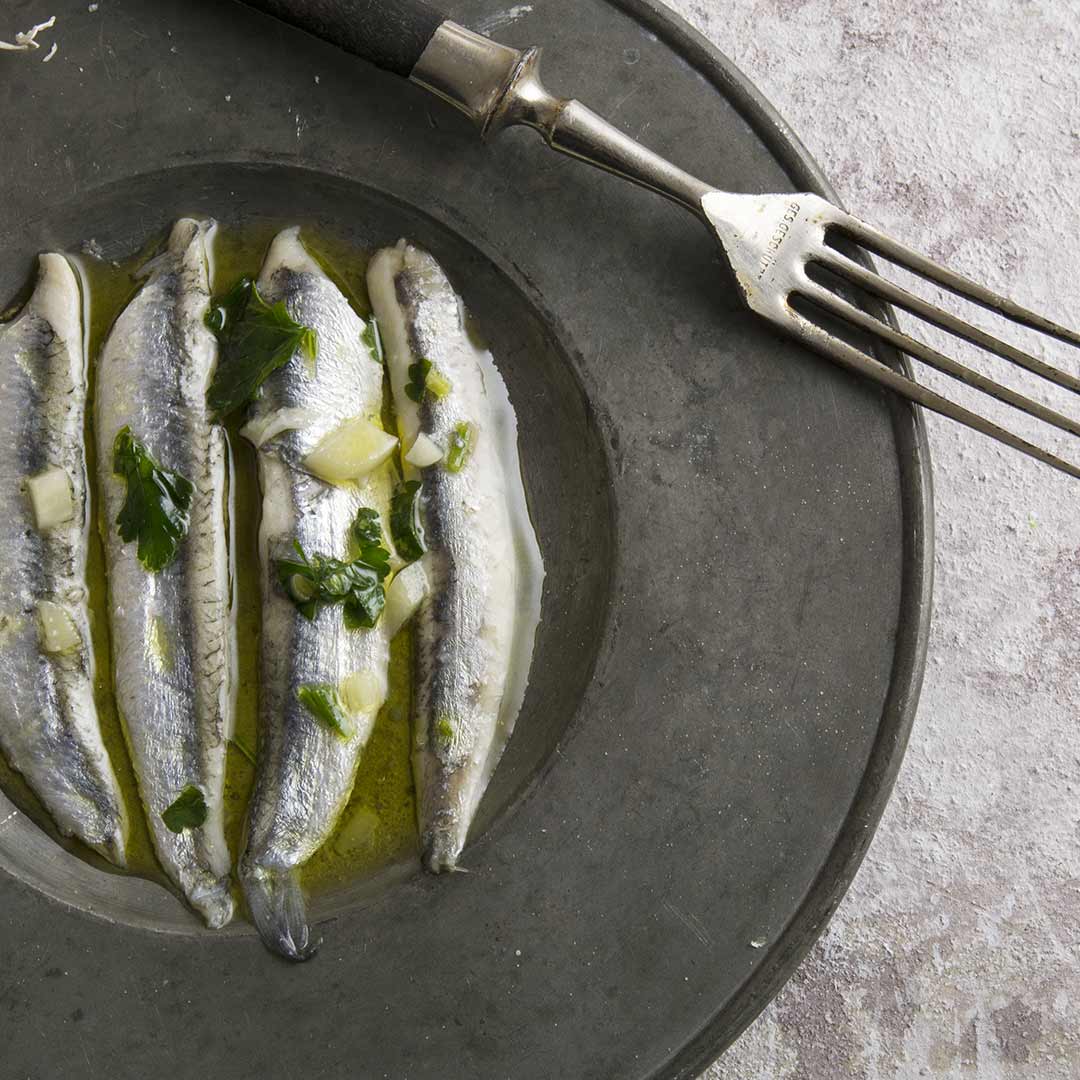 Anchovies in vinegar
Anchovy – 100gr (4-5 anchovies)
Vinegar – 60 gr (½ wine glass)
Water – 20gr (2 tablespoons)
Table salt – 2gr (1 pinch)
Garlic – 5gr (1 clove)
Olive oil – 5gr (1 c / dessert)
Parsley – 3gr (1 pinch)
Buy some fresh quality anchovies.
If you are going to clean them at home, you have to do it carefully and under a stream of cold water without leaving any trace of blood.
Once clean, freeze them for at least 4 days.
Prepare the vinegar with the water.
On a plate, tray or tupper, place the anchovies with the skin facing down, putting a pinch of salt between layers.
Cover with the vinegar and water mixture (if you need more, you can add more vinegar diluted with water).
Let them marinate for at least 3-4 hours (it will depend on the size of the anchovy).
When the meat of the anchovy is white, it means that the acid has already cooked.
To finish preparing the anchovies: drain them well and transfer them to another plate, chop the garlic and parsley on top to taste.
Bathe the anchovies with extra virgin olive oil.
Let them sit for at least 24 hours.
During that week, they will be perfect for serving.
Kcal : 195kcal (with these amounts)
Proteins: 6% of kcal
Hydrates: 43% of kcal
Fats: 51% of kcal
It is a homemade preserve that if we reserve covered with the liquid in the fridge, it can last up to 7-8 days.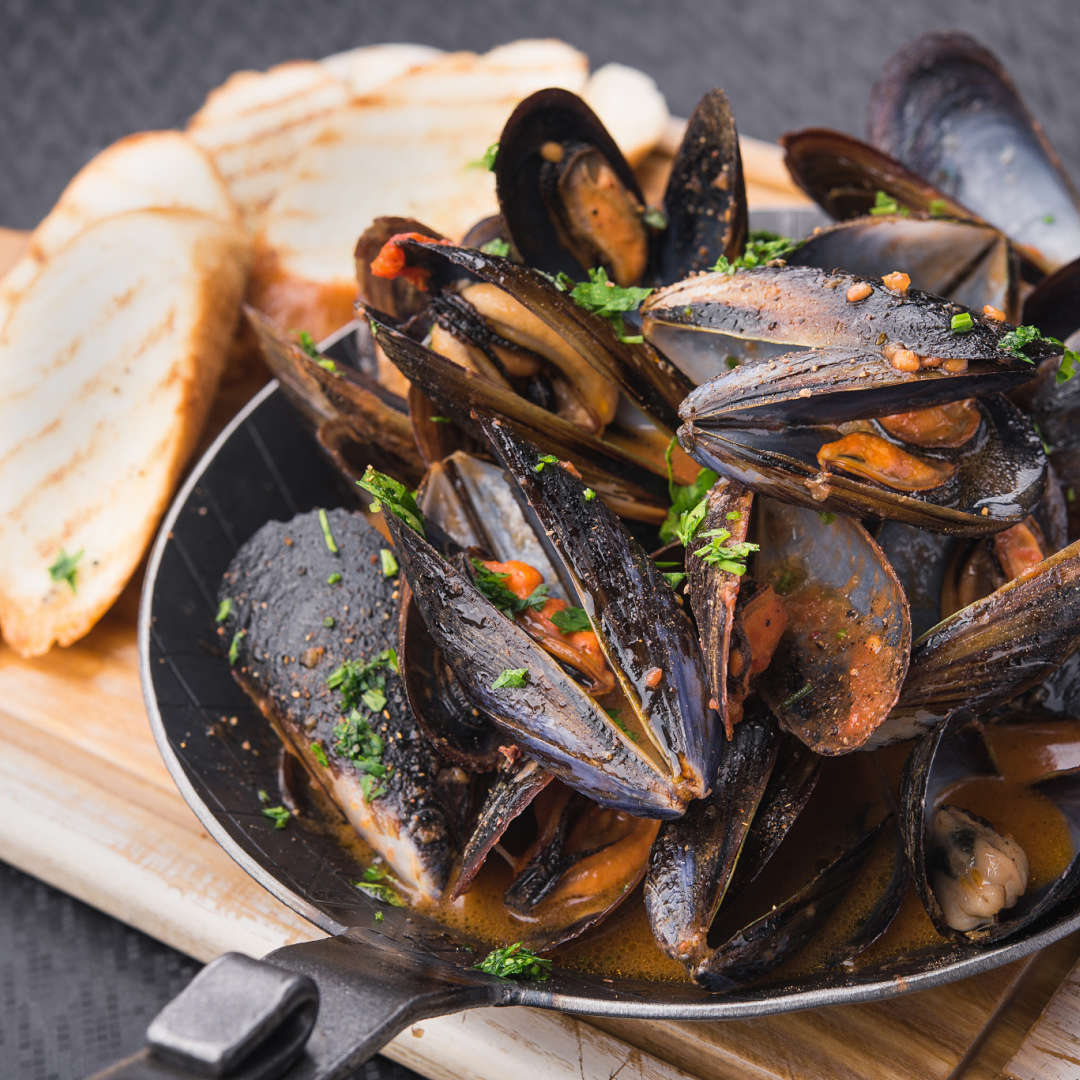 Steamed mussels with tomato sauce and bread
Mussel – 100gr (10-12 mussels)
Table salt – 1gr (1 pinch)
Canned or sifted tomato – 60gr (6 tablespoons)
Onion – 40gr (¼ onion)
Garlic – 10gr (2 cloves)
Paprika – 1gr (1 pinch)
White bread – 40gr (1 slice)
Olive oil – 5gr (1 c / dessert)
Clean the mussels very well by scraping the shells with the help of a knife.
Serve with a little toast.
Put the mussels in a deep pot, put it on the fire and cover it. You will know that the mussels are done when they have been opened.
Peel and julienne the onion and mince the garlic. Then fry everything in a frying pan with a pinch of oil.
Once browned, add the crushed tomato and paprika.
Pour the water from the mussels into the pan and reduce the sauce.
Add the mussels with the shell to the sauce and bring to a last boil.
Accompany the recipe with the bread. This time we let you wet and everything 😉
Kcal : 293kcal (with these amounts)
Proteins: 49% of kcal
Hydrates: 23% of kcal
Fats: 28% of kcal
Sunday appetizers = marching one of mussels for table 1 in the room! The mussel has a high iron content (4.5 to 7 mg per 100 g), more than other meats considered rich in this mineral.
Grilled prawns with bread
Prawns – 100gr (2-3 prawns)
Table salt – 1gr (1 pinch)
Red or cayenne pepper – 5gr (1 pinch)
Lemon with skin – 30gr (3 tablespoons)
Olive oil – 5gr (1 c / dessert)
White bread – 30gr (1 slice)
Heat a little oil in a pan.
When the oil is hot, add the prawns and a pinch of salt. Also red pepper or cayenne to give that spicy touch.
Cook the prawns for 2-3 minutes, turn them over and cook them for 1-2 minutes.
Once they are done, put them on a plate, add the lemon and water them with its juice.
Cut a slice of bread and that's it!
Kcal : 265kcal (with these amounts)
Proteins: 33% of kcal
Hydrates: 36% of kcal
Fats: 31% of kcal
The iodine present in shellfish is an essential mineral during pregnancy, to ensure a perfect mental development of the child.


Octopus with potato, olive oil and paprika
Octopus – 100gr (1 octopus leg)
Olive oil – 5gr (1c / dessert)
Paprika – 3gr (1 pinch)
Table salt – 1gr (1 pinch)
Potato – 100gr (½ medium potato)
Heat plenty of water in a large saucepan.
When the water starts to boil, put the octopus in and out of the pot 3 times.
Introduce the octopus and cook it for 40 minutes from the moment the water starts to boil again.
Let it rest for 4 minutes in the cooking water and drain.
Wash the potatoes, cut them in half and cook for 20 minutes.
Cut the octopus with kitchen scissors into pieces of about 2 centimeters.
Place a base of sliced ​​potatoes and top with the pieces of octopus.
Sprinkle with paprika and season.
TIP: When soaking the octopus, take it by the head.
Kcal : 180kcal (with these amounts)
Proteins: 41% of kcal
Hydrates: 39% of kcal
Fats: 20% of kcal
Octopus stands out for its protein and carbohydrate content, it provides little fat and calories. There are few richer Sunday appetizers; )