We know that there are days and days. And also that sometimes you want to top them with light and vegan recipes without complicating your life.
It is also possible that, for different reasons, you want to eat fewer calories. This could depend on your schedule, your level of physical activity, your performance goals or body composition goals, among others.
In other publications such as Vegetarian menu rich in protein or Vegetarian appetizers you can find varied vegetarian recipes, rich and not at all boring. However, today we wanted to dedicate a post exclusively to light and vegan recipes.
Beyond fads, debates and radicalisms, veganism is a lifestyle that goes beyond the fact of "not eating animals". In addition, a well-planned vegan diet can be perfectly valid if you want to improve your performance. It is a type of diet that does not consist of just eating salads, far from it! There is a world of endless flavors, textures, foods and combinations that not only make for a great variety of rich vegan recipes, but also nutritious ones.
In this post we leave 7 vegan recipes that are further proof of it, here they go !: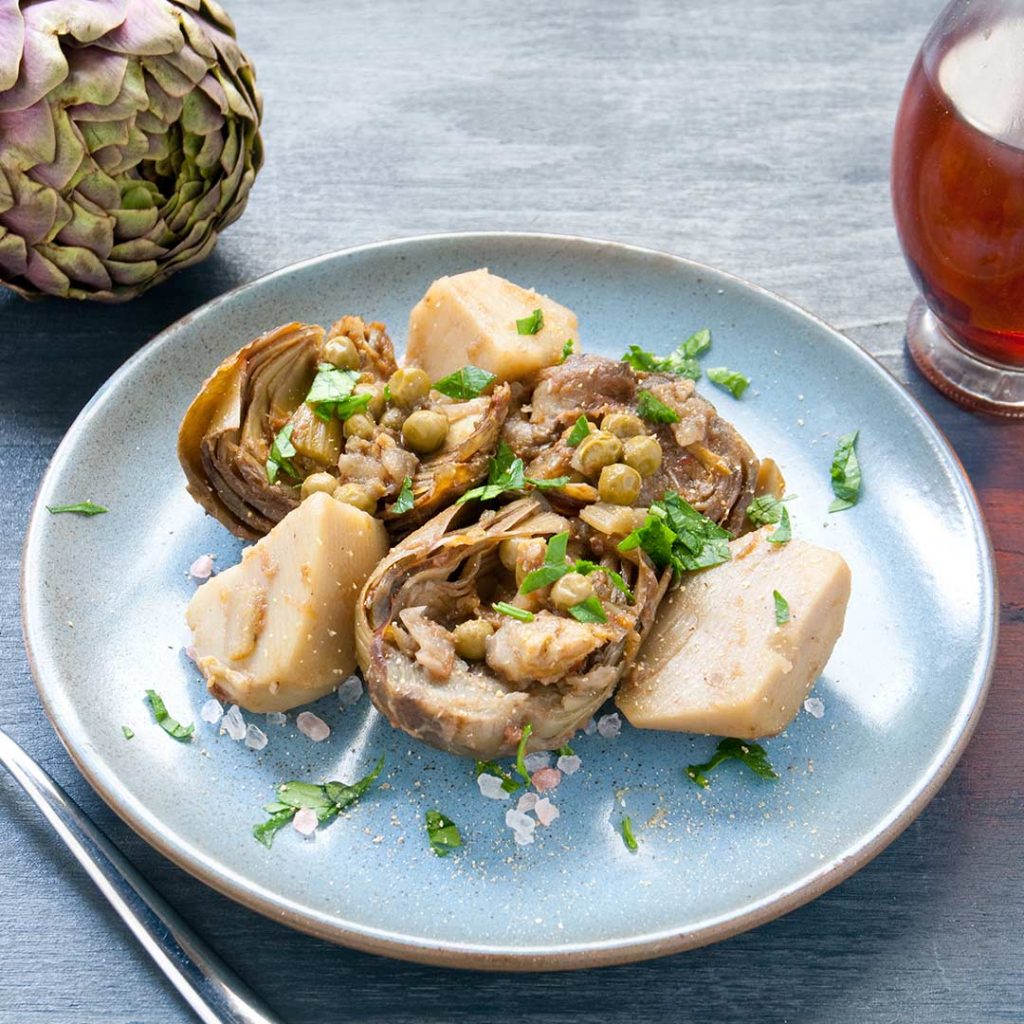 Artichokes and steamed potatoes with peas, onion and parsley
Ingredientes:
Artichokes 100 g (two or three hearts)
Potato 100 g (medium)
Frozen peas 30 g (half cup)
Onion 30 g
EVOO 5g (dessert spoon)
Parsley 1g (To taste)
Salt 1 g (a pinch)
Elaboration:
Remove the stems, the thick base and the outermost leaves of the artichokes, cut them into four parts and remove the hairs from the core.
Heat a pan with a little oil and salt and sauté the onion and peas.
In a steamer or Lékué cook for 5-10 minutes until the artichokes and the potatoes cut into pieces are soft.
Place them on a plate next to the sauté, add chopped parsley and salt to taste.
Kcal : 200 kcal (with these amounts)
Proteins: 14% of kcal
Hydrates: 64% of kcal
Fats: 22% of kcal
With the technique of steaming potatoes and artichokes, we ensure that their nutrients are maintained to the maximum.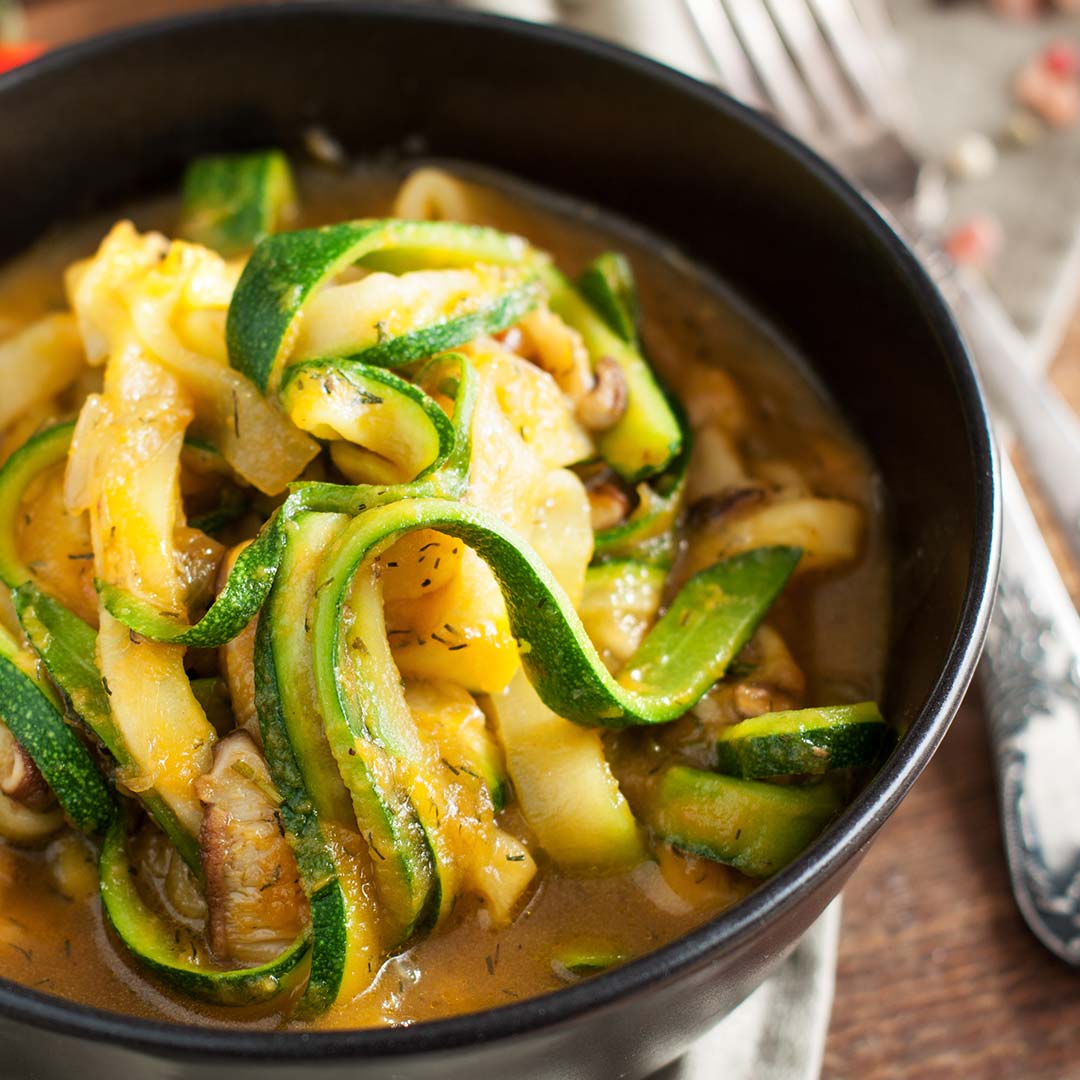 Zucchini, potato and rosemary spaghetti soup
Ingredientes:
Zucchini – 150g (Medium)
Onion – 70g (one small)
Potato – 70g (Medium)
Curry – 3g (half teaspoon)
Olive oil – 5g (small spoon)
Garlic – 1g (half a clove)
Rosemary – 3g (To taste)
Salt – 1g (a pinch)
Elaboration:
Cut the onion into julienne strips.
Cut the zucchini with a spirelli grater to shape it into spaghetti. You can also make thin strips with a knife.
Peel the potato and mash it. This way of "breaking" the potato allows it to release more starch and thicken the broth.
Put the julienned onion to brown over high heat. Then add the crushed garlic and toast with a little curry powder.
Cover everything with water and bring to a boil. Then add the potato and lower the heat to medium to low.
After about 15-20 minutes and the water has evaporated and created the broth, add the zucchini spaghetti.
Remove from the heat and add the rosemary and salt.
Serve in a bowl.
Kcal : 174 Kcal (with these amounts)
Proteins: 11% of kcal
Hydrates: 57% of kcal
Fats: 31% of kcal
Potatoes are rich in complex carbohydrates, specifically they have a vegetable fiber called Starch. This fiber provides benefits to our intestinal microbiota. Thus, by clicking the potato, the potato releases a greater amount of starch, thickening these types of light recipes without the need to add any starch or commercial starch.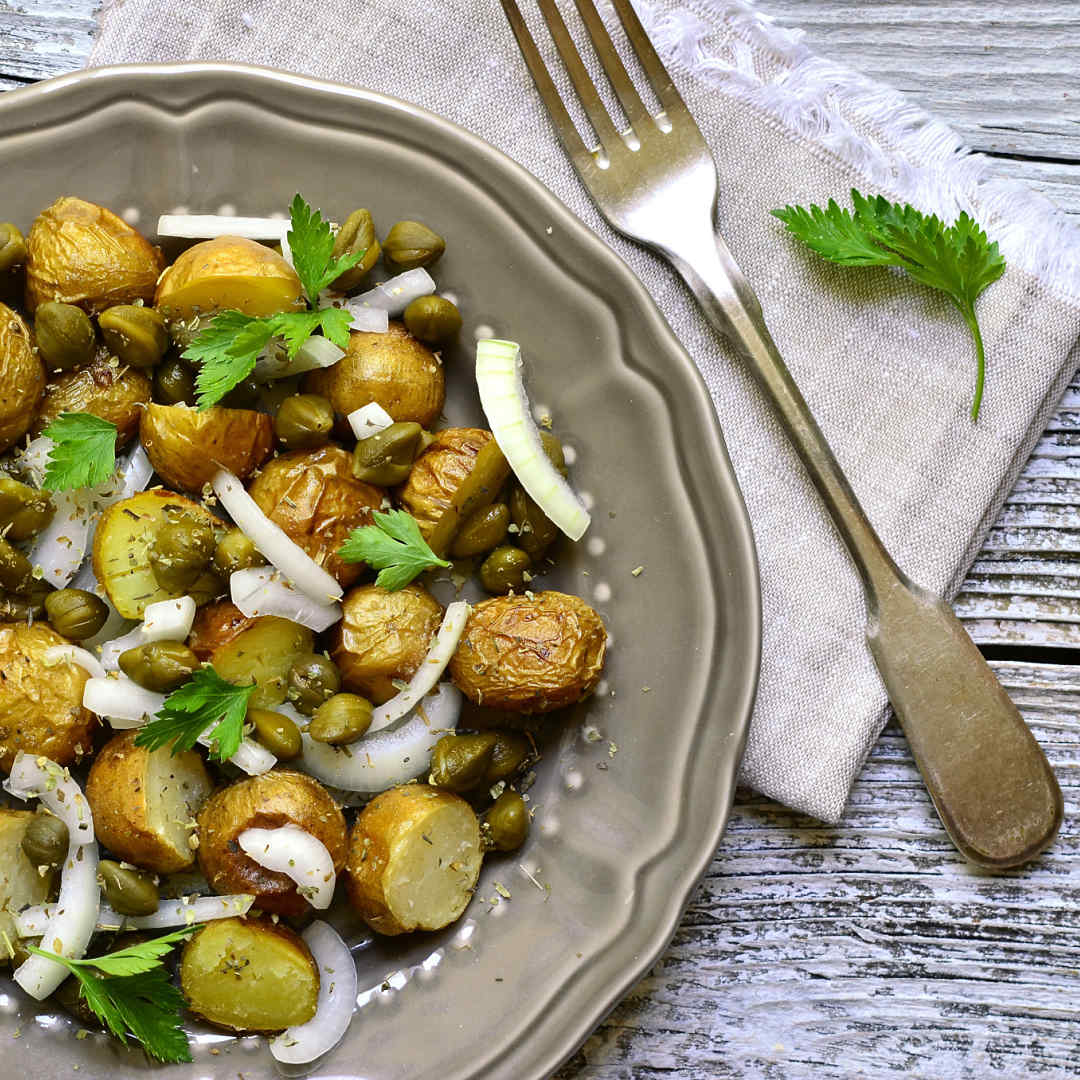 Potato, onion, pickle, caper and rosemary salad
Ingredientes:
Potato – 150g (one)
Pickles – 50 g (7 or 8 units)
Capers – 40 g (two tablespoons)
Olive oil – 5 g (dessert spoon)
Onion – 40g (medium)
Rosemary – 2g (to taste)
Salt – 1 g (a pinch)
Elaboration:
Preheat the oven to 200ºC.
While it is heating, wash the potatoes well and wrap in aluminum foil.
Once the oven is ready, put the potatoes in for about 20 minutes (it will depend on the size).
Prepare the vegetables for the salad. To do this, cut the gherkins into small pieces, remove the first layer from the chives and cut it into slices, and chop the capers.
Take the potatoes out of the oven and let them cool slightly.
Mix all the ingredients.
Salt and pepper to taste and top with a pinch of rosemary.
Kcal : 190 kcal (with these amounts)
Proteins: 11% of kcal
Hydrates: 61% of kcal
Fats: 28% of kcal
Wrapping potatoes in aluminum foil to cook them is a very healthy culinary technique as it keeps the food moist. In contrast to boiling, no vitamins are lost in the cooking water. In addition, the texture is much juicier and tasty for light recipes.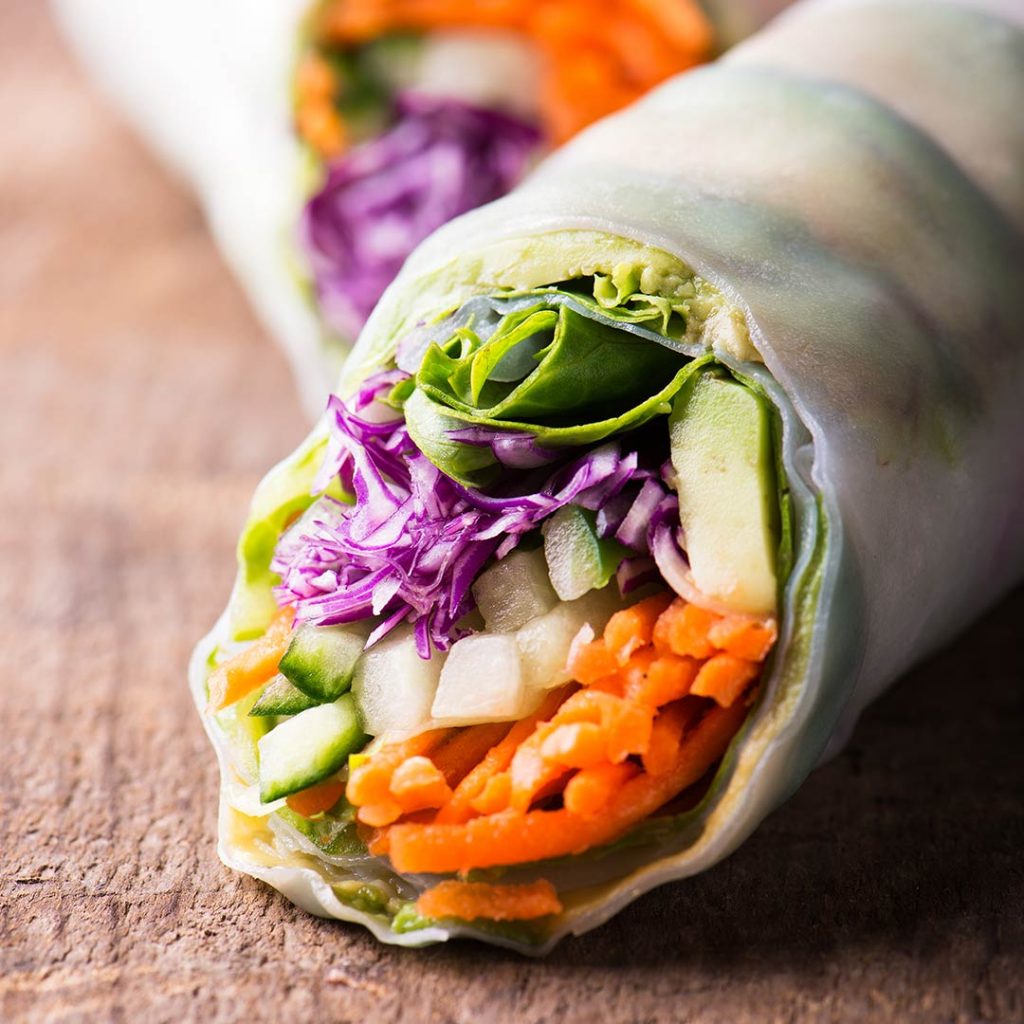 Vietnamese rolls with soy sauce
Ingredientes:
Rice paper – 30 g (one wafer)
Cucumber – 30 g (medium)
Carrot – 30g (a small one)
Avocado – 20g (a quarter)
Red cabbage – 30g (a few leaves)
Spinach – 20g (a few leaves)
Fresh mint – 1 g (a bunch)
Soy sauce – 10 g (one tablespoon)
Lemon – 5g (a dessert spoon)
Elaboration:
Cut the vegetables into fine julienne strips and salt to your liking.
Soak the rice leaves.
Spread a pre-hydrated rice wafer on a flat plate.
Arrange the vegetables in the center of the sheet.
Add a tablespoon of soy sauce.
To close the roll, first fold the top and bottom. Then one side and the other slightly tensioning to make it compact.
Plate the rolls. You can also serve with soy sauce for dipping.
Kcal : 175 kcal (with these amounts)
Proteins: 7% of kcal
Hydrates: 78% of kcal
Fats: 15% of kcal
These rice wafers are widely used in Asian food both raw and fried. They do not contain gluten so they are a good alternative for people with celiac disease.
They allow adding a variety of raw vegetables, which increases the variety of vitamins, minerals and antioxidants that we take in light recipes.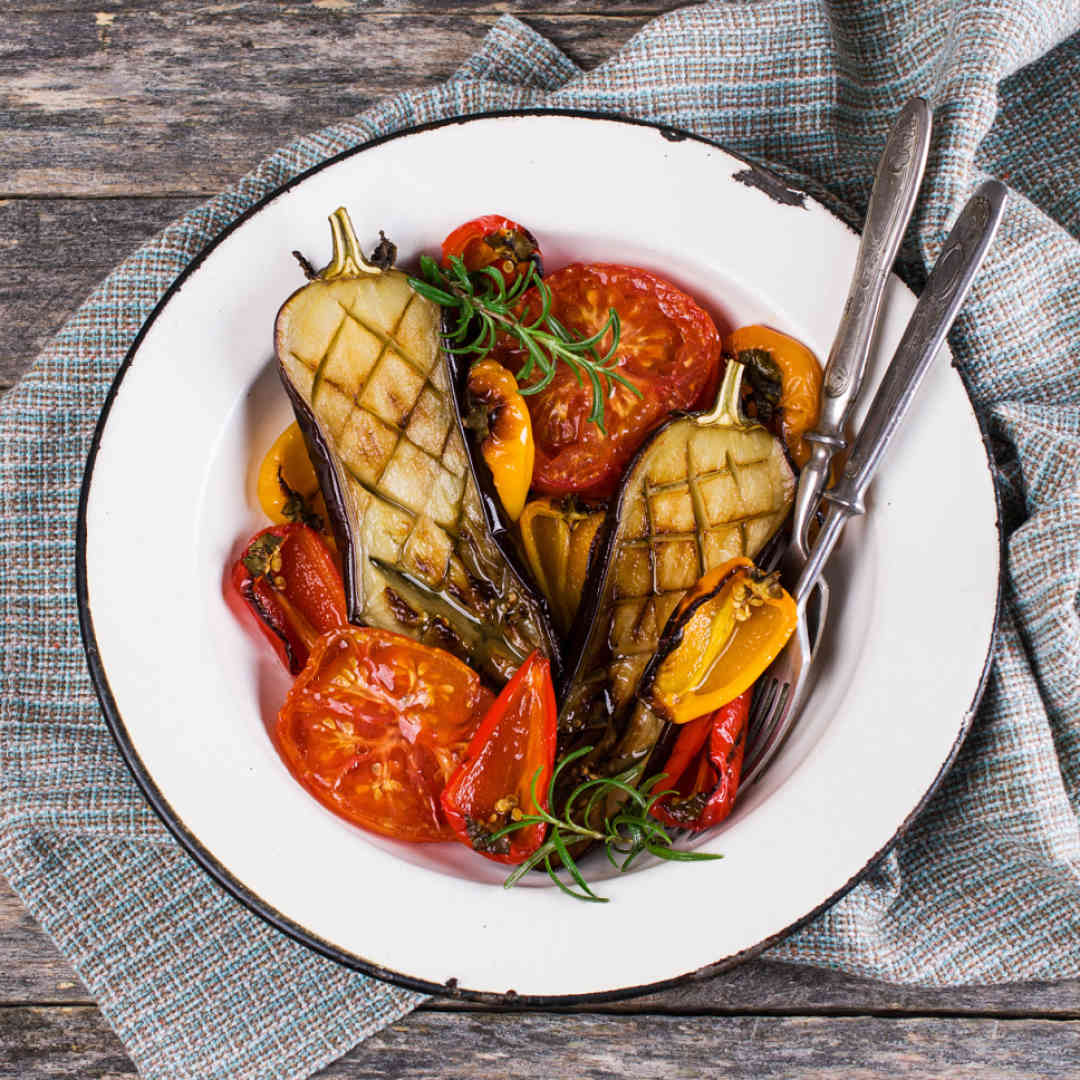 Baked vegetables
Ingredientes:
Eggplant – 100 g (medium)
Pear tomato – 150g (two)
Red pepper – 50 g (one quarter)
Yellow pepper – 50 g (one quarter)
Olive oil – 8g (soup spoon)
Thyme – 5 g (To taste)
Salt – 2g (a pinch)
Elaboration:
Preheat the oven to 180ºC.
Cut the eggplant into finger-thick slices. Next, cut the peppers into slices or strips and the tomatoes in half.
In a baking tray add a little olive oil, the vegetables and add thyme and salt on top.
Bake for 15-20 minutes at 180ºC and that's it!
Kcal : 181 kcal (with these amounts)
Proteins: 9% of kcal
Hydrates: 46% of kcal
Fats: 45% of kcal
beplant contains an alkaloid substance called solanine that gives it a bitter taste, and in large quantities it could be toxic to the body. For this reason it is always recommended to take cooked aubergine. Good option for your light recipes.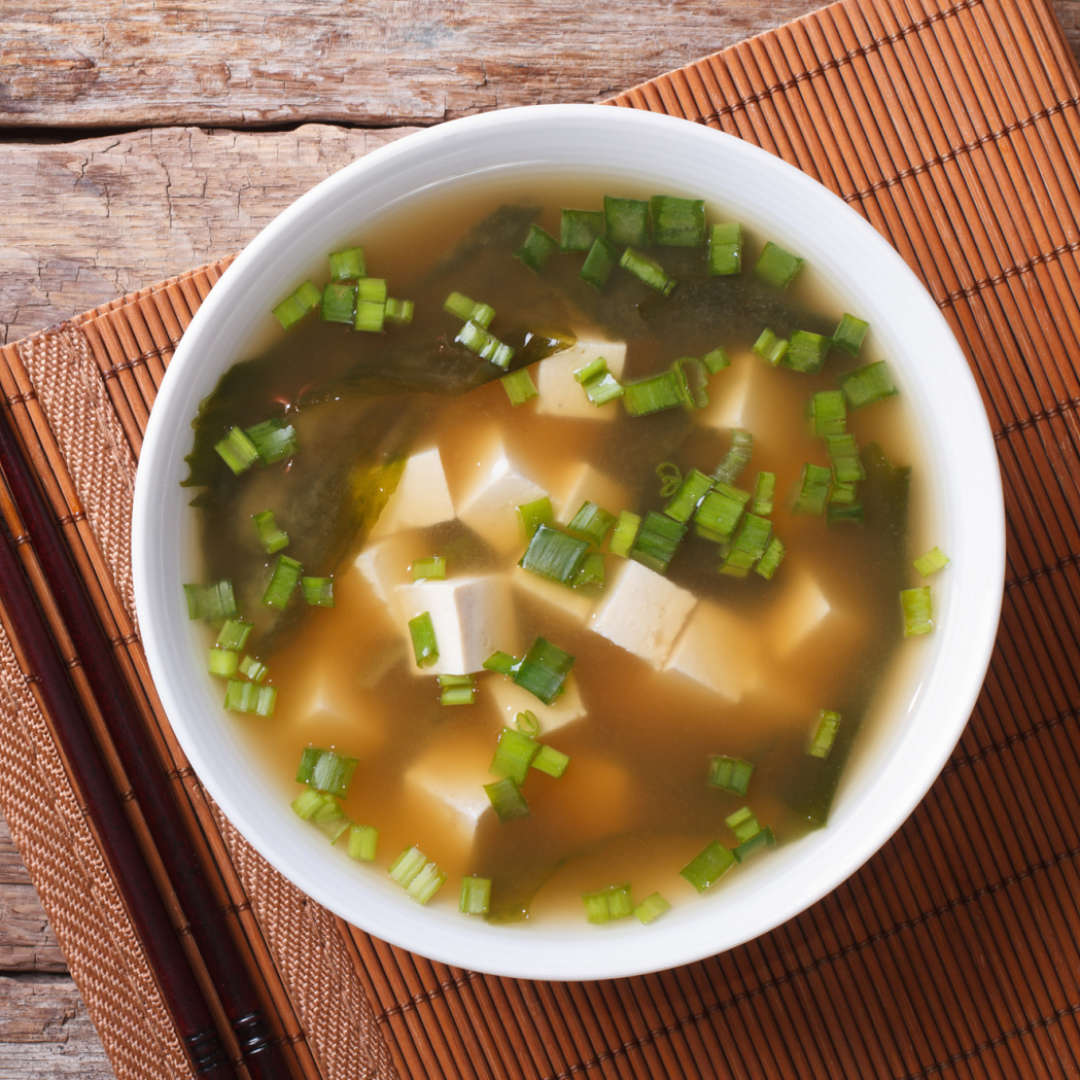 Vegetable broth with miso, kombu seaweed and tofu
Ingredientes:
Firm tofu – 55g (one third of the block)
Leek – 60g (medium)
Tomato – 30 g (medium)
Onion – 20 g (one quarter)
Carrot – 30g (medium)
Kombu Seaweed – 20 g (two or three leaves)
Olive oil – 5g (dessert spoon)
Miso – 10g (one tablespoon)
Water – 300 g (two glasses)
Chives – 10g
Elaboration:
Put a pot with a little oil on the fire and add the onion.
When it is golden brown, add the tomato, carrot, leek and water. Then cook.
Take out some broth, dissolve the miso and reserve.
Next, strain the broth and use it as a cooking medium.
Put the broth in a pot and when it is boiling add the kombu seaweed. For 5 minutes or until hydrated.
Dice the tofu and add it to the water to cook.
Finally, add the broth with the miso already dissolved.
Serve in a plate or bowl
Cut and also add the chives and ready to eat!
Kcal : 199 kcal (with these amounts)
Proteins: 22% of kcal
Hydrates: 44% of kcal
Fats: 33% of kcal
Miso is a paste made with fermented soybeans and sea salt, making it rich in minerals, proteins, and carbohydrates. Like algae, miso provides large amounts of sodium.

Cauliflower and apple cream
Ingredientes:
Cauliflower – 150 g (medium without stem)
Onion – 30g (medium)
Apple -50 g (medium)
Vegetable broth – 150 g (one glass)
Olive oil – 3g (dessert spoon)
Parmesan cheese – 10g
Parsley – 1g (a sprig)
Sal – 1 g (a pinch)
Paprika – 1 g (a pinch)
Elaboration:
Remove the green leaves from the cauliflower and the stem. Cut into medium pieces, wash and drain.
Pour the oil into a pot and put over medium heat, add the onion cut into pieces.
Peel and dice the apple. Then add it to the pot.
Also add the chopped cauliflower and stir for 5 minutes. Then take out some bouquets and reserve.
Add the vegetable broth and cover.
Let it boil over medium heat 20-25 minutes.
When the vegetables are soft, add the cheese and mash everything.
Plate the cream and add the cauliflower florets that you had reserved.
Sprinkle with fresh chopped parsley.
Add salt and paprika to taste and you're done!
Kcal : 199 kcal (with these amounts)
Proteins: 20% of kcal
Hydrates: 39% of kcal
Fats: 41% of kcal
In addition to being a good source of vitamin C, cauliflower has significant amounts of vitamin K. This lesser-known vitamin plays a very important role in metabolism, since it helps to build bones and tissues, or to normal blood clotting.